Boeing Aerospace is poised to bring a F/A-18E "Super Hornet" testbed aircraft to the Indian Navy's Shore Based Test Facility (SBTF) situated in INS Hansa, Goa. The French aerospace firm Dassault Aviation has already deployed Rafale M aircraft at INS Hansa for a set of demonstrations for the Indian Navy.
According to the reports published by Livefist, while the French Rafale M's tests are already going as scheduled this month, the Americans have planned their demonstrations for March 2022. This is the second set of trials, first which commenced in August 2020 at Naval Air Station Patuxent River, Maryland, that homes a similar ski-jump ramp. While previously it was just a showcase of takeoff with clean underwing, the new demo will most likely involve weapons installed on the hardpoints, which is necessary to see if the airframe can be launched with max-takeoff weight.
These demonstrations are planned to showcase the Indian Navy and the government that the products by the Original Equipment Manufacturers (OEMs) under the Naval Multi-Role Combat Aircraft (MRCA) tender meet the required standards. The tender clearly specifies that aircraft must be compatible to launch from a Short Take-Off But Arrested Recovery (STOBAR) configured deck aircraft carriers. The US and French primary aircraft carriers currently field only Catapult Assisted Take Off But Arrested Recovery (CATOBAR) configuration. Therefore, both Rafale and F/A-18 must be modified as per the requirements that are needed to have a dedicated air-arm of STOBAR aircraft carriers like INS Vikramaditya as well as IAC-1, that will be commissioned as INS Vikrant in August 2022.
Even when both units, the Rafale M and F/A-18E/F "Super Hornet" Block 3 are frontrunners in the competition, additional MiG-29K airframes also stand as an ideal choice due to existing experience with the Indian Navy. It is already confirmed that the initial service phase of INS Vikrant, a squadron of MiG-29Ks will be deployed, which are in service since 2010.
Also noteworthy is that while the induction date lies within 8 months, placing an order for either fighter means that deliveries will take no less than one year, with the time taken in conversion training included. There are plans for leasing Rafales for short service as well, something that the Indian Navy has started doing in the past couple of years- a prime example being the lease of MQ9B "Predator" Unmanned Aerial Vehicles (UAVs).
Both Rafale and F/A-18 have their unique set of capabilities. F/A-18 Hornet in terms of air to air combat can carry medium-range active radar homing Aim-120D air-to-air missiles, which cued with its Active Electronically Scanned Array (AESA) radar system can shoot down targets at 120-140km (max operational range is speculated around 160km). Close Combat Solutions are also provided with Aim-9X Imaging InfraRed (IIR) missile, Joint Helmet Mounted Cueing System (JHMCS), and next-generation InfraRed Search and Track (IRST). For Anti-Ship, the aircraft can deploy Harpoon anti-ship missile. The integration of Conformal Fuel Tanks (CFTs) also offer a greater combat radius than its preceding Blocks.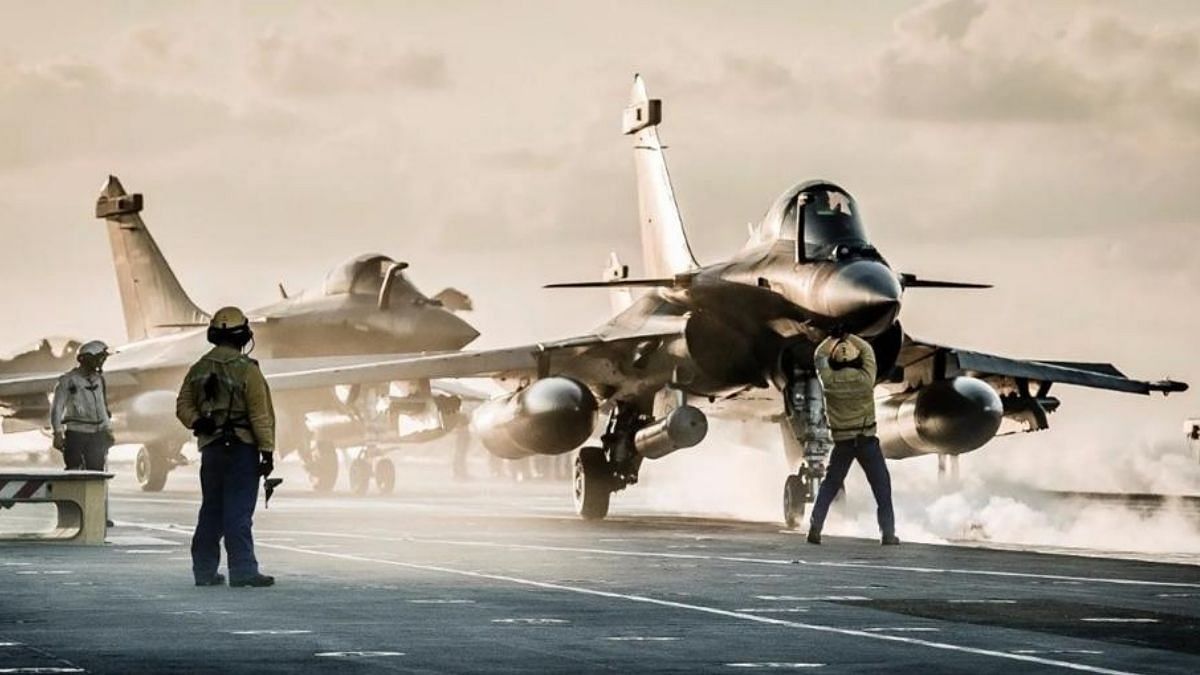 Rafale M is similarly capable, with boasting the Meteor: a ramjet-powered air-to-air missile that can target airborne hostiles at extreme Beyond Visual Ranges (BVR). AM-39 "Exocet" can Anti-Ship Missile (AShM) is the primary weapon in the context of maritime warfare.
A formal decision by New Delhi can now be expected only after the final trials will be finished. With both Russian and Western solutions available, it is up to the administration to decide. The Navy is also backing the indigenous Twin Engine Deck Based Fighter (TEDBF) development which will eventually form the backbone of Indian naval aviation in the future. Therefore, it seems critical for the service to choose a foreign fighter suitable to fulfill the requirement for the interim period.