Introduced as the very first heavyweight twin-engine supermaneuverable fighter in South Asia, the Sukhoi Su-30MKI "Flanker-H" entry in the Indian Air Force in 2004 had unquestionably affected the power balance in the region: giving a drastic advantage to IAF over its adversaries with unmatched capability for years to come. Its firepower combined with abundant availability always forces the adversaries to choose it as their first priority.
It emerged as a case of "hybrid", where the renowned Sukhoi Su-27 "Flanker" and its high agility was enhanced with integration of Thrust Vector Control (TVC) engines, along with the addition of canards, inspired from Su-37 (a technology demonstrator based on characteristics required for Su-35 development). The success of the experiment allowed the Indian Air Force to become the first organization to have hands on such a complex, one-of-its-kind but formidable combat platform. Today, many matured and successful Flanker variants are based on Su-30MKI airframe, incorporating similar twin-seat configuration with canards. Even the Russian Air Force and Russian Navy are highly impressed with aircraft's reliability to conduct multirole operations and have already tested this capability in war-torn regions with its own Su-30SM.
Having such decorated characteristics, the Su-30MKI is still not a mediocre system and the organization trusts on the platform to serve for further decades. However, with the rise of new battle technologies and rapid expansion of anti-air solutions, it is obligatory to improve Su-30's self protection and offensive proficiency to deal with contemporary threats.
Understanding India's unpublicized upgrade programme
It is necessary to understand the discussion here is not regarding a full-fledged Mid-Life Upgradation (MLU), but the addition of limited scale enhancements on the platform to provide better resilience against contemporary threats and perception of evolving modern warfare with emerging unchallenged menaces. With Hindustan Aeronautics Limited (HAL) involved in manufacturing Su-30 airframes for nearly two decades, it has enough experience to perform necessary changes, either internal or external, to make it more flexible while adopting substitutes of original equipment onboard.
Read: How Indian Air Force can still attain the edge 'without' Rafale
The current process of upgradation is being done with minor components, putting low investment and in phases with limited airframes involved. This allows satisfactory assessment of the performance and reliability of the new system and if errors are witnessed, can be fixed in a short time, without completely halting the entire modernisation for a long time. This cost-friendly slow and steady approach allows a low probability of delays, and hence, much more suitable for the large fleet of modern fighter aircraft that is serving as a primary frontline fighter as well.
Electronic Warfare capability is now one of the core combat elements in any modern fighter aircraft. While in the past the use of such systems was limited, today, it has the potential to fulfil full-fledged operational requirements, in offensive or defensive roles all in a single mission. This is possible due to miniaturization of complex systems and equipment which were once upon a time had compatibility with only dedicated platforms. The combination of many electronic warfare sub-systems on a fighter aircraft, forming a "suite", is also a flagship feature used to foster and promote the platform's scope in the market, either domestic or global.
New Delhi has acknowledged the significance of indigenous EW elements, as the imported systems have their own limitations due to the fact of classified technology of the Original Equipment Manufacturer (OEM) involved in the development. The Defence Avionics Research Establishment (DARE) is a dedicated wing under state-owned Defence Research & Development Organization (DRDO) to research, design and develop Indigenous solutions for EW systems. Multiple products were successfully developed and pitched into active duty, also receiving positive results.
The first batch of Flankers, Su-30K (twin-seater Su-27) featured Russian SPO-15 "Beryoza" Radar Warning Receivers (RWRs). The original customized Su-30MKI incorporated indigenous Tarang Mk2. In 2019, IAF signed a deal with Alpha Tocol, a Bengaluru based engineering firm to integrate new 6 channel R118 digital RWRs on half the fleet of Su-30s, providing faster processing and a low probability of false alarms.
The aircraft lacks a full package suite and needs to rely on multiple pod provisions. A locally developed Dual Color Missile Approach Warning System (DC-MAWS) is under the final phase of development with flight trials already commencing this year. Providing a wide field of view, the equipment is capable of sensing, detecting, tracking a variety of incoming missiles and offering an early warning to the operator, allowing him/her to employ countermeasures and evade the incoming threat.
To augment the capabilities of offensive competence, DARE's own Airborne Self Protection Jammer (ASPJ), based on Gallium Nitride (GaN) Active Electronically Scanned Array (AESA) technology, is under development and is projected to be much more capable than its Israeli and Russian counterparts, EL/M-8222 and SAP-518 respectively, already in service.
A new InfraRed/Electro-Optical Search & Track (IRST) system, a remarkable element of the Flanker, is also under local development by Bharat Electronics Limited (BEL) that will be a much-improved system over the present UOMZ OLS-30.
In terms of armament availability, the initial phase of service saw the Indian Air Force completely dependent on the Russian supplied weapon package on Su-30MKI, both in air to air and air to ground subjects. But today in terms of air-to-air weaponry, Indian air arm now has a wide range of options to choose from, offered by both foreign and local suppliers. The Astra family of air-to-air missiles, the Mark 1 variant of which is already ordered (limited series production). The 80km (max) range Active Radar Homing (ARH) missile is designed to target hostile aircraft at Beyond Visual Range (BVR). The next generation of variants with enhanced range and new propulsion units, that are dual pulse rocket motor powered Mark 2, and Solid Fuel Ducted Ramjet (SFDR) powered Mark 3 are also in development.
An Imaging InfraRed (IIR) version is also being made. All will be deployed as a standard-issue fit for the fleet. Reportedly, Israel's Rafael is also working in close coordination with the organization for integration of I-Derby ER (Extended Range) missile, powered by dual pulse rocket motor and with the ability to hit 5m2 RCS (fighter size) targets within 100 km range. Both Astra and Derby are reportedly in line to replace the mediocre RVV-AE, which was proven unsatisfactory after a skirmish between India and Pakistan over Kashmir in 2019.
For air-to-ground, the organization is ramping up the procurement and trials on standoff munitions including cruise missiles, precision-guided bombs, anti-radiation missiles and more. The BrahMos Air Launched Cruise Missile (ALCM), inducted with No 222 "Tigersharks" squadron is a major boost for medium to long-range air to surface/sea strikes. Precision Guided Munitions (PGMs) like Sudarshan, Smart Anti Airfield Weapon (SAAW), High-Speed Low Drag (HSLD), etc., and Rudram Anti-Radiation Missile (ARM) are some renowned and indigenous examples that were not originally part of Flanker's weapon package in the initial phase of service.
Uninterrupted link with all the elements on and off the battlefield, both via datalink and communication systems, holds a consequential stance that allows precise mission handling and decision making after analysing the threat scenarios located on the battlefield. A continual and secure Network Centric Warfare (NCW) system is the term used to define such a link, and is achieved by employing the wide scale of apparatus with full-fledged networking and real-time data transferability.
To fix all the errors and misinterpretations IAF had to encounter during the February 2019 air battle against Pakistan, major upgrades are being carried out to improve the precision of communication, coordination and interoperability between platforms. The "Global Link" Software Defined Radios (SDR), supplied by Rafael in the process of integration, are highly secured systems to provide communication and data-link services to the military operator. The fast data retrieval, processing and transferability achieved within a wide band (VHF/ UHF/L) is the priority during conflicts, and performs required diversions in strategy. 
One of the topics of uncertainty is Helmet Mounted Display (HMD) that is now a common feature in modern fourth generation combat aircraft. In 2017, Samtel-HAL Display Systems (SHDS) was awarded a contract to supply Helmet Mounted Display & Sight for Su-30MKI. It would be based on Thales TopSight family of HMDS from France, that Samtel already manufactures in India for Indian Naval Air Arm MiG-29K fleet. However, no updates were reported even after 4 years related to integration attempts or succesful tests. Additional reports suggest that Israeli Elbit likely offered their premium Display And Sight Helmet (DASH) or Targo II for Su-30MKI that is more viable due to the fact that LCA Tejas, MiG-29K, Mirage 2000 and Rafale F3R are also integrated with same system. Furthermore, Su-30 in past also enjoyed privileges achieved with Israeli armament and sub-systems, suggesting it can be optimised to operate with Israeli helmet as well.
The future: "publicized" upgrade to Super Sukhoi
In 2010, a Request For Proposals (RFP) was issued by the Indian Air Force, demanding the upgrade of 84 units (a major proportion of the fleet in service at that time) to a next-generation standard termed "Super Sukhoi". The negotiations with Russian authorities went underway and were smoothly processed until it was stalled due to price issues. The programme was reiterated in multiple reports since then but with no clear conclusion on finalisation. Multiple new attributes are reportedly being considered as well, with both indigenous and foreign suppliers involved.
Taking the majority of the systems from Su-35S, the "Super Sukhoi" will be (if approved) the most proficient system to hold the superiority in the South Asian airspace for additional 10-15 years. The N035 Irbis-E (Snow Leopard), a Phased Electronically Scanned Array (PESA) radar capable of tracking 3m2 targets at ranges beyond 250km, while the current N011M BARS radar available today can track such targets at a comparatively low range estimated between 150-160km. The OLS-35 InfraRed/Electro-Optical Search & Track is also on the list, to improve the short-range combat capability and provide better targeting solutions against multiple air and ground targets. However, it is worth noting that indigenous solutions are already destined to arrive in coming years and eventually fitted on the fleet, at much lower testing, purchase and integration costs.
DRDO has offered Electronics and Radar Development Establishment (LRDE) developed Uttam Active Electronically Scanned Array (AESA) radar, in "upscaled" configuration to equip the future Su-30 fleet that requires large and high capacity radar system due to the specific role it performs. The upscaled will reportedly feature much enhanced range than the variant designed for Light Combat Aircraft (LCA) Tejas and offer better targeting and Electronic CounterMeasures (ECM) ability than the N011M BARS. The Indian IRST will also be the standard system in place of OLS-35.
But few things still require foreign support due to an infant industry, a prominent example of which is engine development. The Saturn AL-31FP turbofan engine presently powering the fleet is said to carry trouble characteristics influenced by Indian Air Force's operational procedure and diverse climatic nature of the subcontinent, for which the engine is not eligible to serve in the long run. In other words, it's not suitable for tropical operations. India's own GTX-35VS "Kaveri" engine is still incapable to meet the desired afterburning turbofan certifications, even after 25 years of development since its first run in 1996, and hence, one of the most ambitious projects of India is halted and is expected to progress only after technical support and skill know-how from already established engine manufacturers around the globe, such as French Safran and British Rolls Royce (who have already expressed their interest for merging up with local Indian engine makers).
Comparative analysis against the Adversaries
At present, India is facing two front hostile scenario, each with competitive foes. The expansionist Chinese doctrine in the North and North East is met with committed Indian resistance that displayed extreme levels of tensions and standoff between the two sides. In 2020-21, massive deployment of firepower occurred on both sides, in response to repetitive clashes between ground troops. Su-30MKIs were unsurprisingly deployed on the scene and pictures of aircraft in Combat Air Patrol with air-to-air missiles and EW pods including SAP-518 Self Protection Jammer (SPJ), SAP-14 Electronic Attack Pods (EAP) and ELM-2060P Synthetic Aperture Radar (SAR) surfaced online.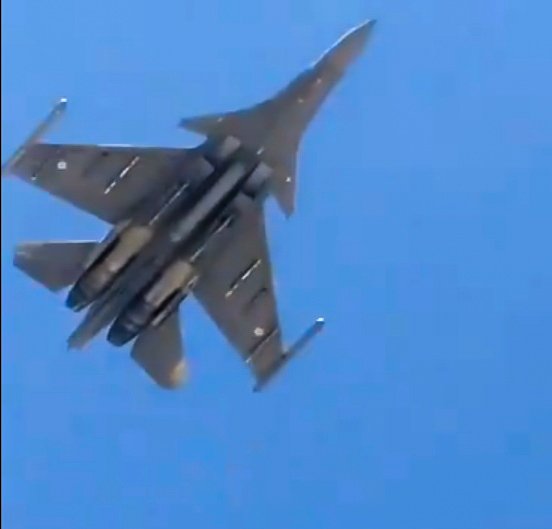 The present threat from People Liberation Army Air Force (PLAAF) is their backbone J-10 light multirole aircraft and most importantly its counterpart J-11, a family of Chinese modernized twin-engine air superiority aircraft based on Su-27 and Su-30. While the Indian variant enjoys credible experience and authenticity while operating in the operational domain in high altitudes, China's quantitative edge will be a challenge for the Indian fleet to counter and outgun in any future conflict. On the other hand, the alleged most capable J-11 variant in service, the J-11BG, features highly sophisticated sensors and sub-systems that MKI still lacks, including an AESA radar, long-range air-to-air missile and more.
When compared with Pakistan, the last experience against F-16C/D "Fighting Falcon" Block 52 was not fruitful for Su-30MKI as it ended up defensive against the pushing F-16 and unable to attain clear firing parameters due to unavoidable limitations. However, it still holds slightly better performance on paper but with the modernization plan going successful, it won't be far from reality to see India's mammoth to once again establish itself as the Trump card.
With nearly 260 airframes in service, there is still no scepticism that IAF will not try to find its substitute for at least next one or two decades. With years of service, thousands of flight hours and uncountable examples of excellence achieved due to man-machine interface, the $62 million Indo Flanker is a valuable asset for its operators with a belligerent nature and enormous value to serve the interests of the state, both in peacetime and wartime.